Randall Munroe's visit to Google (xkcd)
Submitted by ellen on Fri, 12/21/2007 - 6:04pm
In early 2007, I started reading my now-favorite cartoon, xkcd: a webcomic of romance,
sarcasm, math, and language. It's geeky, playful, and whimsical. Some of the cartoons are only decipherable to computer scientists, but others have broader appeal, such as:

In February (2007), I sent a fan letter to the cartoonist, Randall Munroe, letting him know he has lots of fans at Google. His cartoons are frequently posted in halls or on internal email lists. I asked if he would be willing to give a talk at the Mountain View headquarters. He said he had no plans to visit California but would let me know if that changed.
On November 29, he emailed me to let me know that he'd be in the area the following week and would be happy to visit Google. Woot! I contacted the author events team, which scrambled to make arrangements, including trying to find a room big enough for his many enthusiastic Googler fans, and settled on Friday, December 7.
Randall had written about Google in his cartoons, such as:

We decided we needed to present him with an Internet-themed cake, made by ever indulgent food team:
Because Google was having a holiday party on the night of his talk, I tried to get a pair of last minute tickets so I could take him. (Googlers are allowed to bring one guest, a phenomenon that has led to date requests on craigslist and facebook.)
I was unable to get a pair of tickets, so I posted to an employee list asking if anyone had a spare guest ticket and wanted to take Randall. I quickly got eager female takers. One female engineer said it was like asking if anyone wanted a date with Johnny Depp. Google women had been particular fans of xkcd since this cartoon circulated on an internal women's mailing list: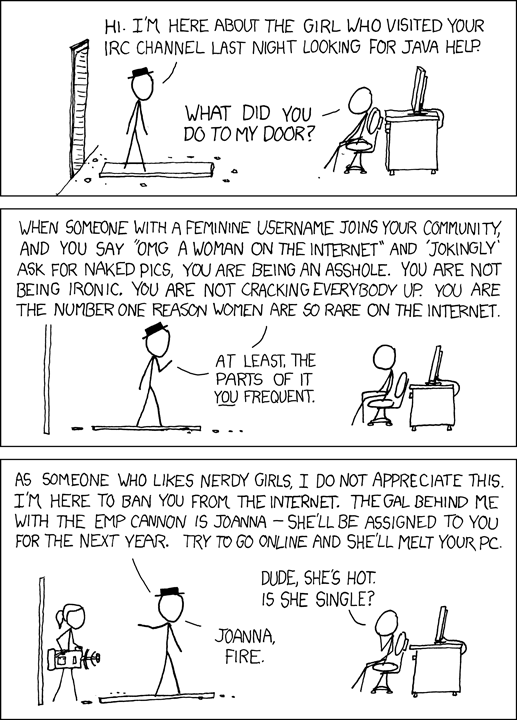 Computer science legend Donald Knuth appeared in some xkcd cartoons: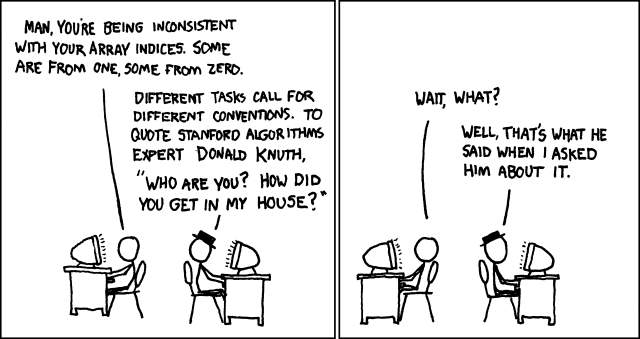 I was acquainted with Knuth and knew that he had a sense of humor (his first publication was in Mad Magazine), so I invited him to attend the talk and lunch afterwards. Knuth notoriously doesn't use email, so I tried multiple channels to get the message to him and was delighted when I received the reply "Sounds like fun" via his assistant's email address. (I did the engineer's victory dance, which my initially startled colleagues agreed was justified.) I encouraged Knuth to surprise Randall by asking about the following cartoon during the talk's Q&A period: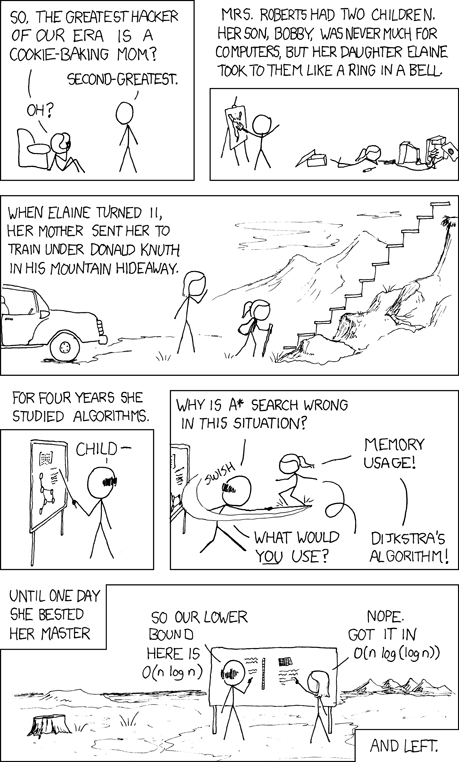 Here's a photo of me conspiring with Knuth the day of the event:

(The picture was taken by the famous Meng, who also got a photo with Knuth.)
Two days before the talk, xkcd ran its first cartoon about the programming language Python: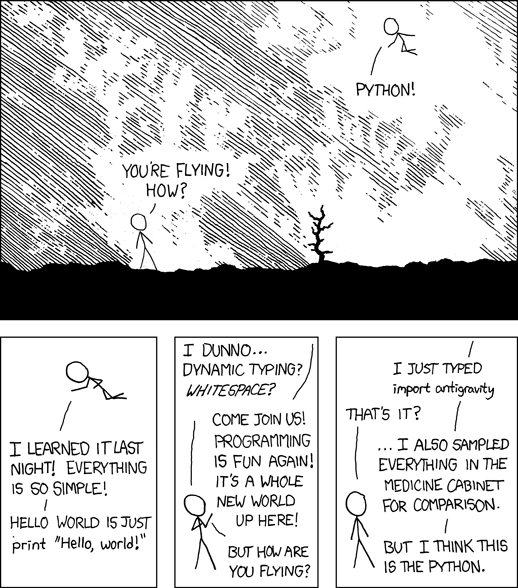 Randall didn't realize it, but the creator of Python, Guido van Rossum, worked at Google, so I encouraged Guido to attend and ask a question at Randall's talk and invited him on a group bike ride to be held later in the day.
Meanwhile, Chris Dibona, Google's Open Source Product Manager and generally cool guy, and his team created a t-shirt to hand out at the event, with the above Google cartoon and its date and geographical coordinates (in reference to this cartoon and subsequent events).
The day of the event, everything went smoothly. Director of Research Peter Norvig, himself a very funny guy (and my manager) introduced the talk, which was recorded for later posting to YouTube and telecast to Google offices across the Western hemisphere.
I won't say much about the talk, since you can view it online. Randall was appropriately impressed by Knuth [21:30], although he didn't recognize Guido van Rossum [19:16]. (I didn't have any responsibilities during the talk, although you can see me ducking across the stage at 39:02 to pull up a relevant cartoon.)
A Googler asked Randall to create a Google logo in xkcd style, which he did with aplomb [52:40]:

After the talk, people ate cake and chatted with Randall, until he was whisked off to lunch.
After lunch, a bunch of us went on a ride on Google's conference bike:
From the left going clockwise are my husband Keith, Maria (Randall's holiday party host), Randall's friend Fizz, Randall, Guido van Rossum, and me. With Guido's able leadership, we achieved a speed of 13 miles per hour:
Then, old-timer Tom Nielsen and I took Randall and Fizz on a tour, including a stop at a metronaps pod:
Randall gallantly held two one-hour autograph sessions, during which he was kept busy. One of his most-posted cartoons at Google is: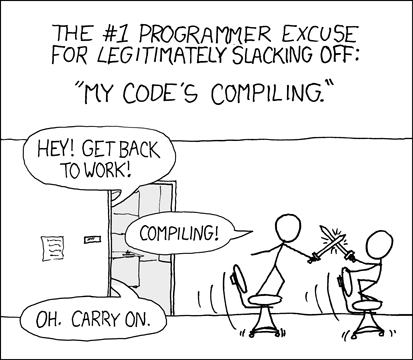 The below photo shows Randall signing a Google version of the poster (referencing map-reduce), with Tom in the background:
At the end of the day, I handed Randall off to Maria, who took him to the Holiday Party, where he was approached by many Googlers. (See, for example, "http://www.flickr.com/photos/rivviepop/2095234153/", showing him with a Googler who apparently had him sign her collarbone.)
In summary, it was a great (but exhausting) day, and I think Randall is a great guy. I'm glad I got to meet him, and I hope he had half as much fun as we did.
This would be a good time to remind people that, while I work for Google, I do not speak for the company, and all of the above opinions are my own. Per company policy, I only posted photos taken in the Googleplex after getting approval. Many other Googlers made the talk happen and go smoothly, and my account of my experience is not meant to diminish others' contributions. (I now appreciate the hard work done by the Authors@Google team more than ever.) No electrons were harmed in this posting.